MARCHING ORDERS FOR ALEJANDRA
Admin




Posts

: 5204


Join date

: 2010-03-02


Location

: PLACE WITH NO NAME

March 20th 2010.
http://love.motion-forum.net/2010-tarot-for-michael-the-jacksons-and-others-f2/march-20-alejandra-jackson-t188.htm
Alejandra is hoping and looking for a way to have a favourable
future.
I still feel that she is not quite sure how to make that happen
for her.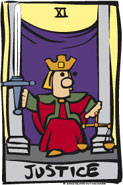 Regarding Alejandra living at the Encino home, I wondered if that situation would continue or whether she would leave there.
I am getting the impression that there has to be fair play for her in order to do that.
She
wants things 'set to rights' - she is looking for a kind of Justice to
come into play.
She also will be looking for better legal judgements
.
It seems by this card that there should be some justice for her as in this card that karma is restored -that there may be a turn for the better in legal matters and balance and agreements come into place for her.